This week I'm sticking with one thing and devoting a whole blog entry to it. That's how much I love it!
•
really long earrings
- Edie Sedgwick did one thing right, absurdly long earrings. Different shapes, layers, materials. I love it! The bigger the better, I say. Piddly earrings don't help anyone, I like big earrings. They are a statement and I love how much oomph they give a t-shirt and jeans outfit. Playing with jewelry is also a fun way to experiment with your wardrobe that won't cost you an arm and a leg. I think big earrings work with any hairstyle, too; short and long, straight and curly. I love having giant ones burrowed in my red curls.
Tips:
• Gold and silver go with everything, and everyone can wear one or both metals.
• Contrast with your hair color. Dark hair? Go for silver, white, ivory, gold or red. If you are blonde go for something with bronze or black in it. I have noticed with my red that neutrals work best. I stick with gold and silver with hints of black myself.
• Go with your gut. If you see a pair that you love but think "oh they might be too much," just get them! You can always play them up or play them down, hide them in your hair if it goes past your chin, etc.
• Notice how the texture of the jewelry goes with your hair's texture.
• Don't wear a necklace or a giant belt. The earrings are enough of an accessory. Though feel free to match/compliment your earrings with eye/lip colour when going out.
Some pairs to get you started:
from Forever 21
from Etsy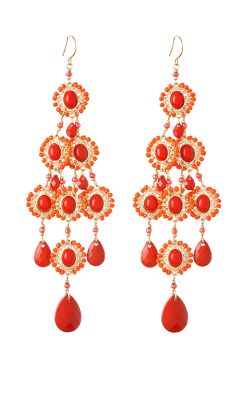 from Anthropologie